Everything Must Dough
Free last minute box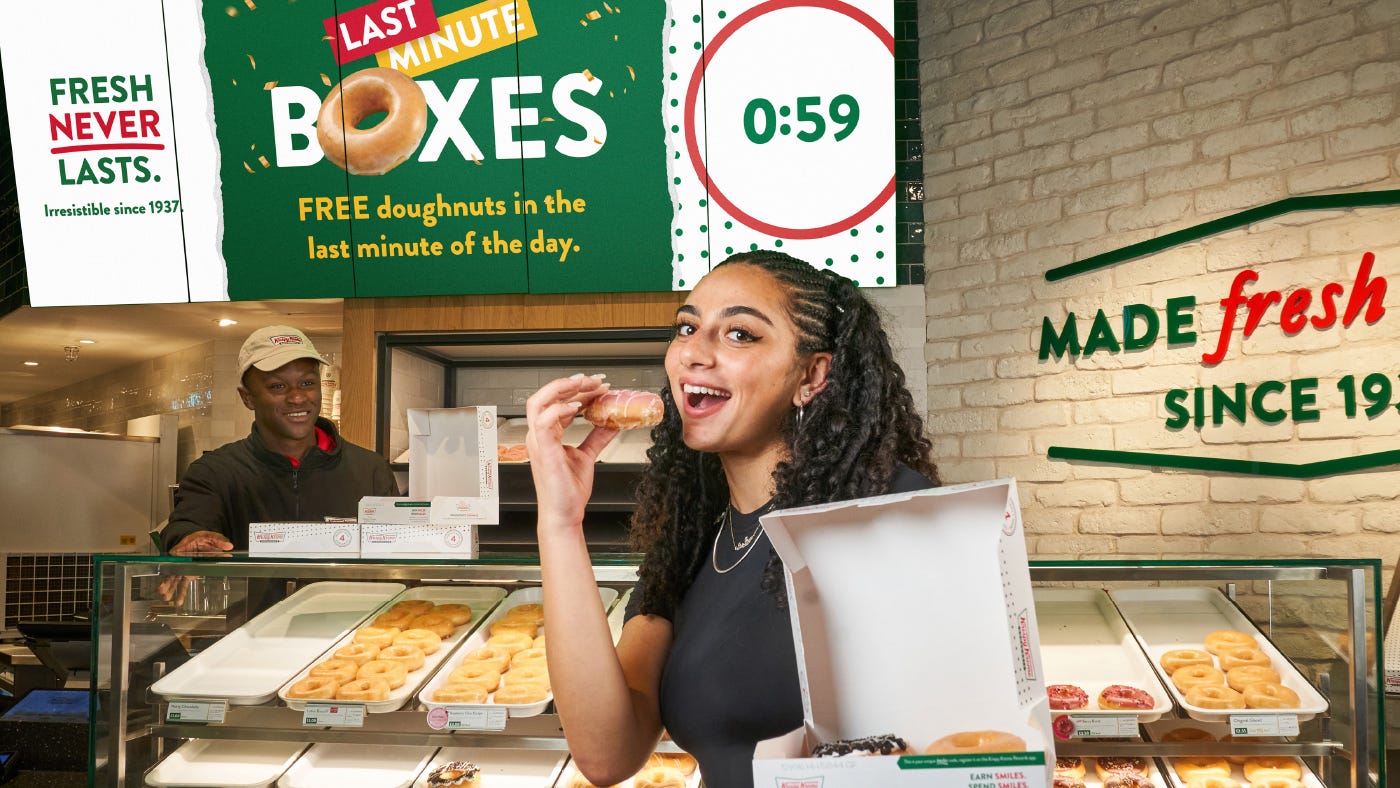 Krispy Kreme is giving away fresh doughnuts for free at the last minute before shops close!
For the first time ever, Krispy Kreme is bringing joy to doughnut lovers by giving them the chance to get last-minute boxes of fresh and FREE doughnuts the minute before shops close, making room for the next batch of freshly made treats.
Since 1937, Krispy Kreme has put 'fresh' at the heart of everything. Every day, each irresistible doughnut is freshly made, hand- decorated and hand-filled by doughnut makers to ensure that doughnut lovers are receiving the highest quality possible.
How can I get my hands on a FREE last-minute box?
All doughnut lovers have to do, to receive these delicious, melt-in-the-mouth doughnuts is arrive in the shop one minute prior to the store closing time, and let a Krispy Kremer know that they're here for the "Last Minute Box Offer"!
This limited time offer is available in participating Krispy Kreme shops. So, for those looking for a sweet treat to unwind, or hoping to spread little joy by gifting to a loved one, head down to a shop near you between the 6th – 12th March and enjoy delicious doughnuts on Krispy Kreme.
Opening times vary by location so customers are advised to check opening times ahead to avoid disappointment.
Explore our range of mouth-wateringly fresh doughnuts and find out which delicious treats could be in your Last Minute Box.
What happens usually to left-over doughnuts?
We are proud that our doughnuts are made fresh daily, to ensure we give our customers the high-quality experience that they expect from Krispy Kreme. We use sophisticated demand planning tools to try to reduce the occurrence of waste. The remaining doughnuts are used to create energy, 100% of our of our food waste is diverted from landfill.
Full terms and conditions
1. The offer is only available from Monday 6th – Sunday 12th March 2023 inclusive. 2. To redeem this offer, in-store customers need arrive in shops at least 1min prior to closing time (please see website for details as opening times vary across locations) and need to let a team member know that they are here for the "Last minute box offer". Customers may experience a queue and will receive free doughnuts whilst stocks last. 3. "Last Minute box offer" is not available in Tesco, Cirkle K, Plaza Group, Applegreen, Center Parcs and Krispy Kreme online or Krispy Kreme mobile events. Third Party channels are also excluded from this offer. 4. This promotion will be available for walk-ins only and can't be redeemed at Drive-Thrus. 5. This offer is available on all single doughnuts stocked at the time of redemption in Krispy Kreme retail shops whilst stock lasts. Customers will not be able to choose their own doughnuts, but allergens will be taken into account where possible. In drive thru locations there will be a limited allocation of free product for this offer and doughnuts will then be available to purchase via the drive thru after store close. 6. Limited to a maximum of 4 doughnuts per customer. 7. Cannot be used in conjunction with any other offers. Over 18s only. 8. Strictly subject to product availability, when they are gone, they are gone! 9. Krispy Kreme Ireland reserves the right to change, cancel or amend offer at any time
Our most popular
DOUGHNUTS