Swords Pavilions Store Opening

Krispy Kreme Swords Pavilions Shopping Centre
Opening thursday 25th november
We are really excited to open our store in Swords Pavilions shopping centre
To celebrate the opening at 8am on Thursday 25th November, we will have exciting entertainment and a chance for extra special treats for customers who visit us on opening day.
We will also have some rewards for customers that are at the store at 8am*
The first 100 in the queue will get some exclusive branded merch
The first 12 will get a money can't buy branded goody bag
We will have gift cards for the first 3 people in the queue loaded with 1st receiving €150, 2nd €100 and 3rd €50
During the day we will have extra ways you can get your hands on exclusive Krispy Kreme merch from sharing a story on Instagram tagging us and the store to purchasing a double dozen. Come down at 8am to experience the joy opening day in Swords, we can't wait to see you there!
Do you want a free original glazed doughnut?
From the 18th – 24th November, if you pay a visit to a local café or restaurant in the Swords Pavilions area we will reward you with a free Original Glazed. The participating locations are:
---
Click and collect
Pre-order for click and collect in store from 9am Thursday 25th November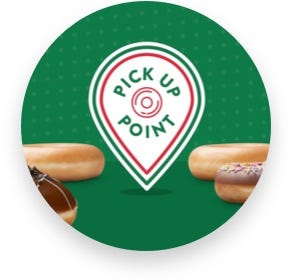 coronavirus and visiting the store
The health, safety and wellbeing of our staff and customers is our number one priority, at all times. Our store is COVID-secure and following all government guidelines. We have given every member of staff has been dedicated trained on all health, safety and social distancing measures. For more details on how we are safely serving smiles, follow the button below.