Less panic-buying
More planting
This year we are turning Black Friday Green by planting one tree for every online order placed over the weekend! From Friday to Monday, you can add a tree to your basket at checkout. The first one is on us.


From Green Friday until Monday, if you place and order online for nationwide delivery or click & collect and add a GiftTree to your basket at checkout, we will cover the cost for the planted tree. Each fruit tree that is planted in a developing nation will help local communities generate a sustainable income.
In the craze of all the Black Friday sales, Green Friday is all about taking the opportunity to enjoy shared time with friends and loved ones, as well as finding ways to invest in others and worthwhile causes. What better way to do that than sharing some delicious doughnuts and planting a tree to help others at the same time!
All our deliveries with our partner DPD are delivered carbon neutral.
A smile come from knowing what tastes good, does good to. We aren't perfect, but we are on a journey and are excited to both continue and start new initiatives that love our planet and community.
Sadly we can't make doughnuts grow on trees, but what better reason to take a break from bargain-hunting and enjoy a box of your favourite treats with family and friends? Share a smile, knowing that what tastes good does good, too.
In partnership with Sustainably Run, Krispy Kreme is planting over 17,000 trees in 2021. And for all our orders nationwide, we've partnered with DPD, offering a carbon-neutral delivery service from our stores to your door.
Each tree we plant in a developing nation will support the local community, help generate sustainable incomes, and offset carbon emissions.
Creating smiles and MAKING A DIFFERENCE
At Krispy Kreme, we are continuously looking at ways we can make a positive difference, be it directly through responsible business practices, supporting our people and customers, or by helping our local communities through FUNdraising or protecting our planet.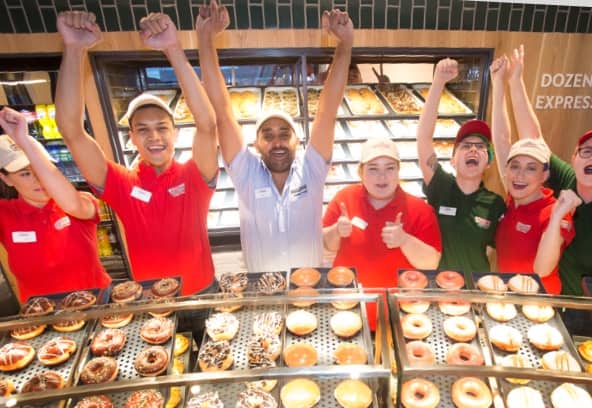 Love our people and customers
Share a smile with a product you can't wait to enjoy, with the ones you love.
We are focused on growing amazing talent within the business and developing leadership and management capability.
We have always and continue to be wholly committed to equality and diversity across every part of the business and are dedicated to creating a "sweet place to work" for all. We fully recognise and value the benefits of recruiting and retaining a diverse pool of employees from a broad and varied range of backgrounds
The safety of our Krispy Kremers and customers is at heart of all our decisions, we continue to ensure safe processes are in place at all times.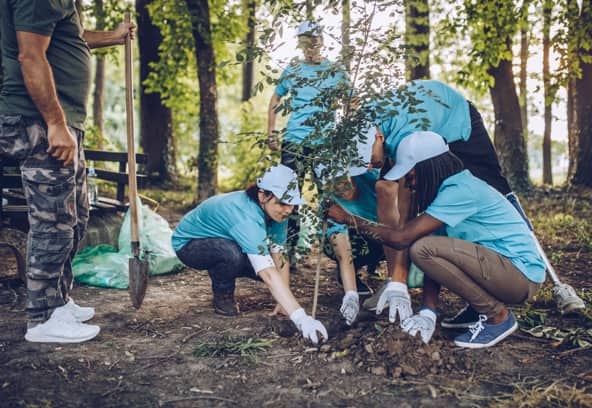 Love our planet
Share a smile, knowing that what tastes good does good, too. Some of the achievements that we are proud of include:
100% renewable energy since 2019.
We divert 99% of food waste from landfill to animal feed and anaerobic digestion. In September 2021, we started working with Too Good To Go to divert doughnut waste to customers.
In partnership with Sustainably run, we plant trees to offset some of our carbon emissions. Customers can also choose to add a tree to an online order for £1.
We continue on our journey to reduce, reuse and recycle.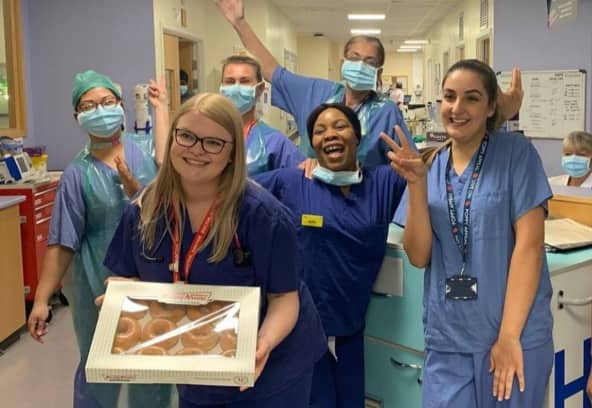 Love our community
Because we're not just doughnut makers, we're joy creators.
We want to bring joy to the communities we operate in and help support good causes at a national and local level.
When we launch new stores, we start with the community at the heart sharing doughnuts with those who give back from health care, to the police, to food banks.
Plus we have a global fundraising programme that enables you to raise some dough for the causes close to your heart.
terms and conditions
Offer applies to purchases made online at www.krispykreme.co.uk for nationwide delivery or click and collect orders.
This is an online only offer and does not apply to any of our Krispy Kreme retail stores or cabinets.
Purchases must be made between 26th November and 29th November 2021.
Customers will be entitled to one free tree per order placed. Customers will be able to choose the location of their tree and get a gift certificate.
This offer cannot be used in conjunction with any other discount or promotion.
Krispy Kreme UK reserves the right to change, cancel or amend the offer at any time.
Delivery is unavailable in the following locations: Scottish Highlands & Islands, Northern Ireland and certain offshore locations.